Meet Lilian Crooks, East Coast resident and creator of bright, graphic works that are simultaneously effectively simple and deceptively complex. Read about her practice, her piece in our current show, PARALLEL, and her various inspirations below!
Hi Lilian! Tell us a bit about yourself, where did you go to school? What kind of work do you do? What kind of projects have you worked on recently, or what projects are you currently working on?
I graduated from Maryland Institute College of Art in May of 2016. I grew up in Massachusetts and currently reside in Philadelphia, PA. I'm a full-time graphic designer at a small college and also do freelance illustration. I've been working on "atmospheric comics" (for lack of a better term) in my spare time, and used the same approach for my Parallel piece. They're not part of a major project, per se, but they have been a really fun way for me to experiment with comics-adjacent work without having to commit to sequential art, which I'm not really fond of doing. I've also made pieces for a bunch of zines over the past few months, the most recent being Strut (a retro anime fashion zine) and Ideal (an LGBT art zine). Being out of school and working a 9 to 5 job means I actually have free time now. It's been both really exciting and a little overwhelming, and I've been happy to take the time to create lots of self-indulgent personal work.
What does your workspace look like? What creates the perfect creative space for you and your practice? Do you have any collections or things that help you get inspired?
It's just a small desk at the back of my living room, as unexciting as that is. My work is almost entirely digital, so I rarely need much more than my computer, tablet, and an enormous cup of coffee. I've been told the decor in my apartment "feels like" my artwork, so maybe it's all just one big mood board. I'm an inveterate collector of tchotchkes and thrift store gems, which includes two huge Chinese opera masks that keep an eye on me while I work. I try to keep the space as tidy as possible, as I feel like a messy desk can discourage me from sitting down and getting to work. I keep a bunch of favorite comics and art books within reach for when I need a little inspiration, but wouldn't recommend this as I usually just end up reading them instead of drawing...
What is your process when approaching a piece? Your work is so beautifully poppy and graphic, do you often think about color and shape first or line and form?
Thank you so much! I definitely focus a lot more on shape and color than I do on line. I start with a mood board (usually on Pinterest) for more detail-specific pieces and fill it with reference pictures and inspiration. I draw a handful of thumbnail pencil sketches before moving on to one slightly more "finished" sketch. I scan that and start laying down blocks of color right away. I rarely create work with line art, so this color blocking step is often where a lot of the real "sketching" and planning happens. Once I have my basic layout of shapes I move on to adjusting colors. This can be a pretty finicky and time-consuming step. I feel that because my work is lineless the colors and values need to be juuuust so. My favorite part is probably the last step, which involves fleshing out details and laying down textures, gradients, and patterns. It brings everything together in a way I find really satisfying.
Do you have any favorite resources, materials, or research materials?
Right now I'm obsessed with the Internet Archive Book Images gallery on Flickr. It's home to over 5 million scans of antique book illustrations/photographs, and I can easily spend hours trawling it for inspiration. It's a great source for beautiful, gross, and/or delightfully bizarre images that would probably be forgotten otherwise.
Can you tell us about the piece you've created for Parallel? What kind of world did you want to create?
I was looking at mid-century futurist illustration and really loved the genuine optimism that comes across in many of the landscapes. They envisioned a kind of sleek, modular utopia that both embraced and juxtaposed the natural world around it, and I wanted to create my own vision of the future with this retrofuturist lens in mind. Our present earth feels increasingly marred by centuries of unchecked and unscrupulous corporatism, industry, and technology. It's interesting and bittersweet (and definitely Panglossian) to try to imagine a society that manages to harness technological innovation with the health of the people and the environment in mind. I imagine my parallel world as being a tranquil post-scarcity colony city on a small, distant planet.
Was there anything new that you wanted to try with this piece, or anything you discovered while working on it?
My Parallel piece is the third "atmospheric comic" I've made, and the entire panel-layout approach is very new and exciting for me! Keeping the entire illustration in mind as I work on each individual vignette is a fun challenge, as is attempting to balance micro and macro to achieve the gestalt effect I'm aiming for. I also tend to prefer making figure-centric work and probably have a tendency to lean on that, so these have forced me to try to create visual interest through environment alone.
What inspires you? Favorite films, music, other pieces of media? Who are some of your favorite artists right now?
Lately, I've been really interested in German Expressionist films. While my work is pretty bright and colorful, I'm enamored with the way they use light and dark, sharp angles, and stark shapes to evoke a mood. I saw The Night of the Hunter for the first time this year and certain scenes were so strikingly composed that they're more or less crystallized in my mind. My Own Private Idaho and The Ascent also come to mind as films I love and find really visually inspiring! At the moment I'm extremely into the illustration work of Matteo Berton, Vincent Mahé, and Jee-Ook Choi.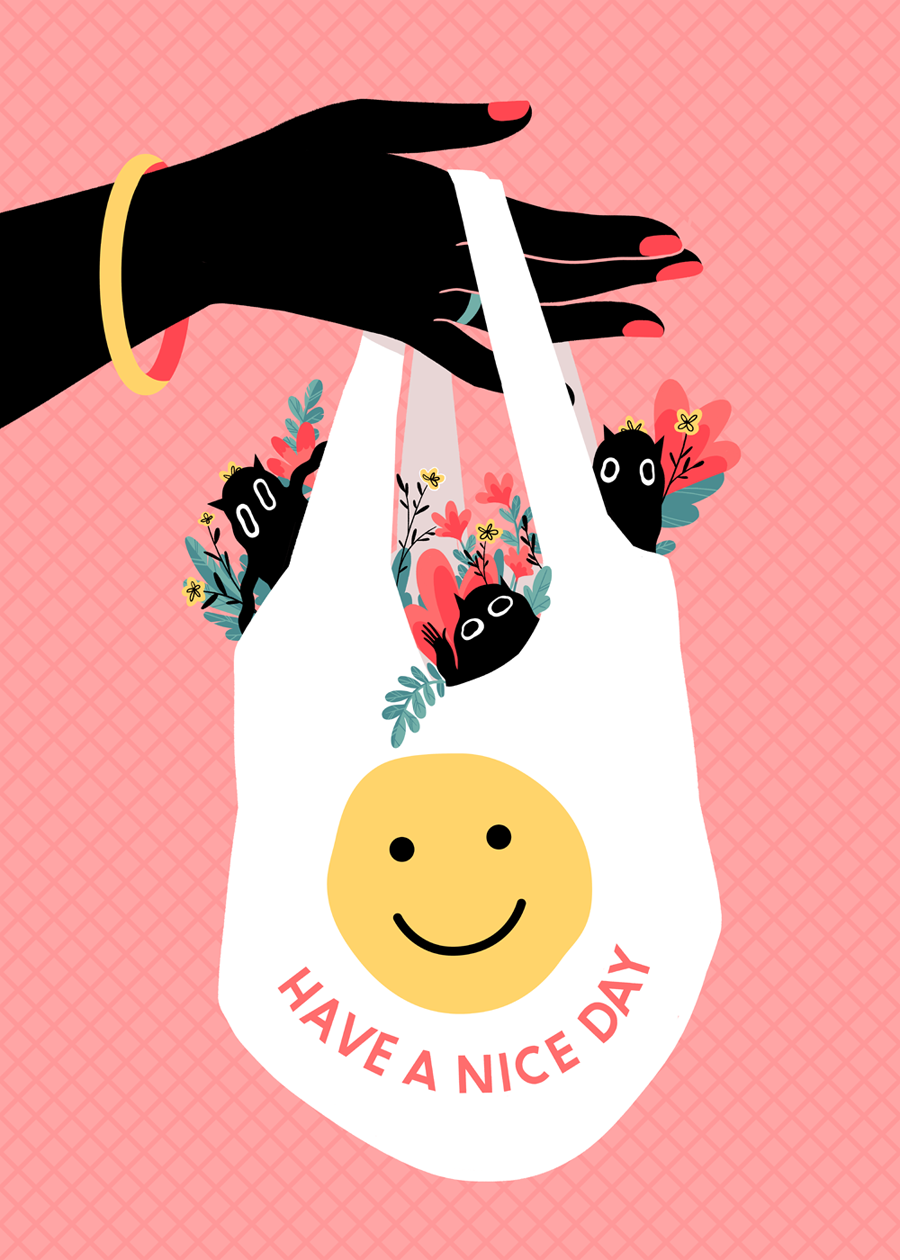 Various pieces by Lilian Crooks
Do you have any other hobbies that you enjoy? Is there anything you've always wanted to get into but haven't yet (art-wise or just in life)?
I do a lot of reading, shamelessly love to watch super trashy reality TV, and I'm involved in work with a local political organization. Art-wise, I'd really like to figure out how to use 3D rendering programs, and have just started to clumsily acquaint myself with SketchUp. I'd also like to work on learning how to create motion graphics in the not-too-distant future. I really, really want to go to one of those gyms (I think you'd call them gyms?) where everything is trampolines and foam pits.
What would be an absolute dream project for you? This can be personal or commercial!
Oh, man... What a hard question! I think I'd love to design/illustrate an enormous mural or billboard and be able to see it in person. Or to create an album cover for Young Thug. Maybe illustrate an enormous billboard advertisement for a Young Thug album.
Can you talk about any of your upcoming projects? Anything you're working on that you're really excited about?
I hate to say it, but I don't have any major projects on the horizon! This is a really busy season for my design job, so I've been short of time and energy. Once that calms down I'd like to continue my series of "atmospheric comics" and make another A-Z drop cap alphabet poster.
Anything else you'd like to add? Where can people find your work?
Young Thug, if you're reading this, let me design your next album cover.
My work can be found on my website, Twitter, and Tumblr. Thanks so much for interviewing me! I'm incredibly excited to see everybody's work for this show, and it's an honor to be a part of it.